Custom Carved Wood Trim, Mouldings, and Decorative Wood Accents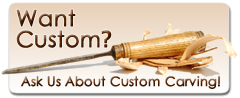 Heartwood Carving designs and creates a variety of custom wood trim and decorative wood accents that represent timeless beauty and value. Decorative woodwork shapes a home's interior architectural landscape. As you browse our website, you will find a unique line of carved wood trim and components—our decorative wood carvings, such as appliques, onlays, rosettes, trim mouldings, corbels, columns, and more, allow you to add your own personal touch.
At our design studio and production facility in Eugene, Oregon, Heartwood Carving offers custom wood carving design and period reproduction carving services utilizing advanced automated carving methods and the highest-grade hardwood and fiberboard. Whether your project is large or small, our goal is to bring a sense of style and distinction to your home, office, or commercial space with the finest in architectural wood carvings and decorative wood accents. We also offer custom wood trim and carvings for your unique design projects. Browse our selection or contact us to learn more about our carved wood trim, mouldings, custom woodwork, and more!
3" Roaring Lions
You carved 3" roaring lion heads for our victorian quarter sawn oak fireplace. These are absolutely FABULOUS and bring the piece to life. Thanks! Julie Cox
Reviewed
Tue, Jun 11 2013 2:08 pm
by
Julie Cox
Absolutely beautiful finials
I LOVE them!!!!!!  (Pineapple Finials)

They will make my house extra beautiful!!!
Thank you!
Judy Motlow
Reviewed
Fri, Oct 03 2014 4:40 pm
by
Judy Motlow
Church capitals
The capitals look great. We look forward to applying them to the altar for the catholic church.
Regards,
Steve Krause
Ratigan Schottler, NE
Reviewed
Wed, Aug 06 2014 3:58 pm
by
Steve Krause, Ratigan Schottler
Gorgeous
Joe, the volutes arrived
today - they are GORGEOUS!  Your company does such great
work. 
Thanks for everything.  I'll send you pictures when the
project is complete.
Gayla
Reviewed
Wed, Aug 06 2014 4:13 pm
by
Gayla Lewis