Columns, Posts, Capitals, Pilasters
Carved Wood Columns, Capitals, and Pilasters
No matter the setting, decorative wood columns, capitals, and pilasters can add a touch of ornate beauty to preexisting architecture. Whether incorporated into decorative mantle surrounds or trimming wood doorways and window casings, carved wood columns (round), posts (four sided) and pilasters (single sided, flat backed) are the most classic components in decorative architecture. Many products are shown with optional Capitals. All carved wood columns, posts and pilasters feature digitally created decorative art and can, therefore, be sized and custom carved to order to suit your requirements. Browse our amazing selection of decorative carved wood columns, posts, capitals, and pilasters below to find the products for your next project.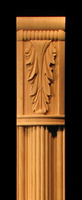 Pilasters are flat backed columns useful for ornamenting trim or other flat surfaces.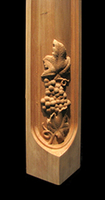 Carved corner posts.