What to Know Before Outsourcing Your Wood Carving Project
Posted on

Fri, Oct 18 2019 6:15 am

by Heartwood Carving, Inc.
Individuals in professions such as architecture or interior design have a host of projects to work on, and many of them often require outsourcing. Additionally, there are occasions where homeowners who execute their own projects still seek out professional assistance. Even when you're deferring your work to an expert, however, you still need to have a plan in place. The inability to properly communicate your exact needs could lead to a disappointing final project.

It's far from uncommon for individuals to outsource their woodcarving projects. It's a specialized skill that takes years to learn, and it would be difficult to accurately replicate the work of a professional. When you go to an expert to supply your woodcarvings, you can rest assured they'll execute the project to the best of their ability. As such, there are a few different things that you'll want to know before choosing a company to work with. To help you with this task, we created a list of factors you should consider before selecting the professional that you'll work with.
What Steps You'll Outsource

The wood carving process from beginning to end requires a few different steps, though not all of them are necessarily executed by the same company. These steps including the following:



Choosing pieces from a catalogue or creating a custom design


Making the piece


Applying a finish and/or stain to a piece


Shipping and installation

The process of a carving's creation, as well as its execution, is an extensive one that starts once you place the order. Many carving companies send the piece to consumers unfinished, allowing you to either do it yourself or hire someone else to complete the project. As this is an easy DIY project, we recommend doing this one on your own should you have the time. This allows more room in your budget to put toward the cost of the carved pieces.
Your Initial Planning Needs

Examining your particular needs will help you determine the company or outlet that can best execute them. It's best to pre-determine what your specifications are as much as possible( i.e.sizes, lengths, wood choices, and costs that your budget will allow) before choosing the art style. Layout your timeline and how it will work with your installer and finisher. You will find carved works in several places on the internet—some are limited in their scope of art, wood choice, or availability. Once you learn that a company can meet your requirements, start checking for art that works for your style. If you are still not sure, most will be happy to assist you or you may want to seek out an interior design professional.
How to Take Measurements and Make a Sketch

To have a piece that will perfectly match its intended design, you'll have to know how to take proper measurements. You may be using these pieces for furniture, fireplace mantels, banisters, or moulding. As such, the smallest discrepancy can create a fitting issue that's difficult to fix. Be sure that you're incredibly accurate as you take your measurements. Then try to apply the measurements to a sketch of the parts fitting together from the face view and profile view. This will often reveal design requirements that are commonly overlooked, such as thicknesses. Most requested carving measurements include the following:
The Kind of Wood You Want

When looking through a company's catalogue, you'll likely find that they offer each piece in several types of wood. The texture, weight, and appearance of a piece are incredibly important, and the result will vary depending on the type of wood you use. Species of wood that tend to carve well include:



Oak


Cherry


Walnut


Mahogany


Alder


Maple

You may notice that all the woods listed above are hardwoods. The reason for this is that hardwood tends to present the best results regarding the appearance and longevity of a piece.
The Company's Carving Process

While hand-carved pieces were more common in the past, this simply isn't possible for companies that work with several customers and bulk orders with short lead times. Additionally, it can be difficult to create identical pieces. Many companies today will use machines to carve their products. Machines offer efficiency and consistency of results. The best machine choice is the CNC (computer numeric controlled) machine. A computer controls this machine to provide accurate, high-quality results. Products requiring tiny details or repeated consistency, such as square wood rosettes, require this specialized process. Another process is called embossing, where the pattern is pressed into the wood material (often a softer wood). But the result is less pleasing to the eye as the relief tends to be shallow. Embossed relief is economical, however. Duplicating machines will use a master and stylus method to make several parts at once but are less consistent in their output.
If You Want Customizations

Many companies, such as Heartwood Carving, offer to modify items already in their existing catalogue. If you've found various designs that are similar to what you're looking for but not quite hitting the mark, customization comes in handy. You can edit one that the company has already created by changing the size or adding optional details (for example, special ends or thicknesses). If you know that you'll require any type of customization, you'll have to know if the company you're working with accommodates this request. Additionally, you'll want to discuss ahead of time how this will affect the price and lead times. To find out, the company may ask you to provide sketches and/or photos (Pinterest is a great source) for any original or modified works. Since you already worked on your sketch in the planning process, you're already prepared for this request!

Heartwood Carving will also create new custom work or reproduction should that be what your project requires. By providing us with a sketch or an original piece for reproduction, we can present a result that meets your end vision. As part of the order process, Heartwood provides 3D renderings for your approval before the machine carving to make sure it is exactly what you want. Remember though, custom work will add some time (usually an additional week or two depending on complexity) and of course cost. As such, you should account for this in your planning.
How You'll Work with the Company

Exceptional service requires quality products as well as good, working communication with the company you choose to partner with. Poor communication can create a result in items that didn't match your initial expectations. Check for available drawings, PDFs, specifications, and product photos showing different angles of a piece. You should also check for the return policy. It is still a buyer beware market, and if a company does not meet your needs, you may have to expand your budget or work with a disappointing product.

Located in Oregon, Heartwood Carving produces all its products as they are ordered using one of several CNC machines it maintains. The use of several machines means Heartwood can accommodate large and small orders and even rush requests. Heartwood maintains a real-time schedule of all orders and can respond to inquiries about schedule quickly and accurately.

When it comes to wood carving projects Heartwood Carving promises to deliver a product that meets—if not exceeds—the expectations of their clients. While the catalogue is extensive in its own right, our offerings don't end there. We're ready to work with our clients every step of the way in the process of fulfilling your carving plan. We offer high-quality products and services and are waiting to fulfill all your woodcarving needs.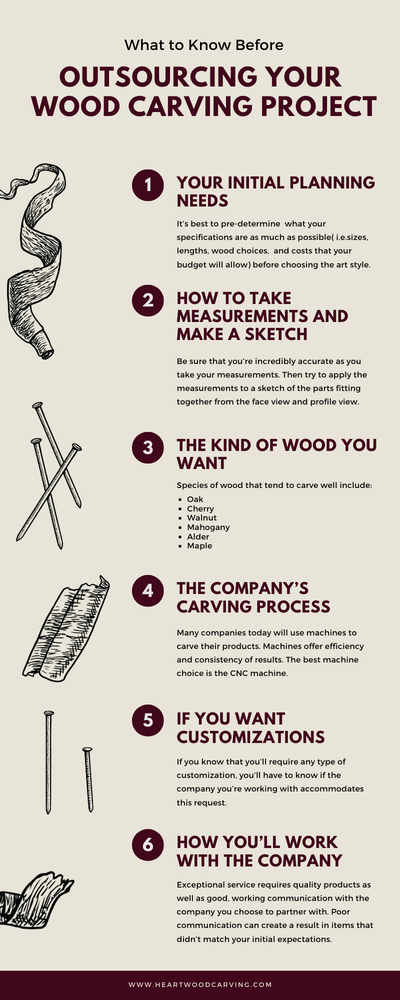 ---