Tips for Choosing a Theme for Your Room
Posted on

Fri, Apr 17 2020 2:01 pm

by Heartwood Carving, Inc.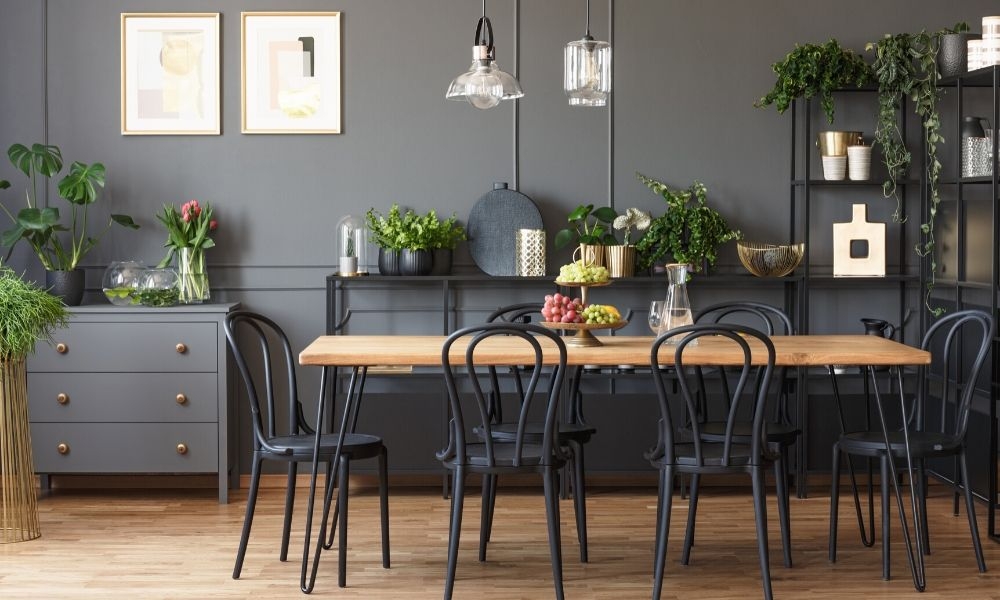 If you care about interior design, you're probably dreaming of how you can tie everything together in your living room, kitchen, bedroom, and all your other rooms. Rather than randomly painting your walls and buying furniture pieces that might fit, setting a theme in place before you make design decisions gives you great clarity. With clarity in hand, you can decorate your rooms with purpose and create spaces you love to live in and can't wait to show off to friends and family. To help you accomplish this, here are some tips for choosing a theme for your room.

Consider Your Home First

While striving for creativity, there are some bounds you should keep in mind. Apart from staying within budget, you should also consider your home's fit for the theme you want. While your craftsman or colonial period home is uniquely tailored for a corresponding interior design, implementing a contemporary design in either will be difficult. You may run into issues getting the features you want into your home given its layout or a drastically different design may simply be too jarring a departure. Rather than spending more money to make a theme fit, if your home won't accommodate what you want, adapt your theme accordingly.

Pick a Theme You Can Live With

Another tip for choosing a theme for your room is to pick a design you can imagine yourself living with for years. Avoid design fads and go for timeless décor, furniture, trim, and cabinetry. Relying on well-established styles—such as traditional, cottage, and modern—prevents you from falling victim to passing trends. The last thing you want is to be sick of your interior in a year and face years of discontentment or the high costs of another redesign.

Style Inspiration

If you're currently searching for a fitting theme for the room you're redesigning, there are many different styles to choose from. To help, here are a few prominent room styles that span a wide range of preferences and region-specific design traditions.

Traditional

The traditional style is a fairly universal one. Aesthetically, "warm" characterizes the core of traditional designs, and this warmth manifests through moderate- to dark-wood tones, elegantly crafted wood pieces, and the lack of harsh, sharp angles. Ideally, wood pieces would have a personable and handmade quality to them that is more down-to-earth than luxurious. Some other key elements include a soft off-white or beige paint color, accent pieces that complement existing furniture, and well-crafted mouldings. These mouldings, in particular, provide attractive details that complement your high-quality furniture. You can't go wrong by tying everything together with a large, comfortable couch set with accenting throw pillows. After all, what suggests warmth more than a comfortable place for you and your guests to rest for a while and talk?

Contemporary

Compared to a traditional style, a contemporary design is more open and minimalistic without sacrificing comfort. Contemporary is an ever-changing style that incorporates some early 20th-century modernism into a 21st-century aesthetic. This involves straight edges, paired down and simple wood cabinetry, and other simple features. Contemporary spaces are much more open than traditional rooms, with more wall space left bare and larger windows to frame and lighten the entire room. One more specific expression of contemporary design is West Coast contemporary. This variant maintains the lightness of contemporary style but adds a heavier focus on woodwork and centers on a large stone fireplace.

Modern

The modern style is a product of early 20th-century industrialization, among other factors, and this comes out strongly in modern features. More so than most styles, modern setups include sharp lines and a focus on distinct geometric shapes. This geometric focus is related to the avant-garde Cubism movement. Material-wise, glass and metal fill a modern-style room and lend well to squared sharp edges. While rooms may include a wood floor, in an effort to remain as minimalist as possible, designers eschew wood trim and mouldings. This is also why modern setups don't often involve lots of accenting décor pieces. One final detail to know—this style engages with asymmetry much more than other styles, so utilizing variously sized furnishings fits well.

Art Deco

A metaphorical cousin to a general modern style that occurred during the same early 20th-century time period, the Art Deco style is another possibility. While traditional design's trademark is warmth, Art Deco's calling card is its boldness. It also includes defined geometric shapes like a modern style, but it shares marked differences with its pared-down, minimalistic cousin. Art Deco rooms incorporate luxurious materials such as gold and steel, while occasionally putting unconventional patterns into use. To give an extreme example, many think of Jay Gatsby's mansion when they hear Art Deco. If you want to go for an extravagant Art Deco style, Heartwood Carving offers custom architectural wood carving that extenuate an Art Deco style well. Not only that, but we can also create other custom wood pieces that fit whatever look you pursue.

Cottage & Cabin

Cottage and cabin designs are similar in warmth to traditional styles, but they have their own outdoorsy and earthy feel. This manifests through aged and stressed wood pieces that are either extremely old or crafted to appear that way. Cabin-styled spaces, in particular, incorporate ample warm orange-tinted wood. In general, darker tones dominate. The cottage aesthetic lends to a somewhat lighter feel with a focus on vintage décor and furniture meant to last for decades.

Craftsman

Our final style that could inspire you is a craftsman design. This design shares some similarities with cabin and cottage, but it tends towards a wood focus. Craftsman styles are intent on showing off extremely high-quality wood and stonework. Entryways often feature cased openings replete with detailed wood trim. In contrast with a modern style, wood trim is extremely common throughout the home here. While trim and other adornments aren't excessive or gaudy, they fill out the room with detail and draw the eye. Also, as made clear by the name, this style often includes handmade or unique wood furniture and cabinetry. Homeowners liberally litter handcrafted desks, chairs, coffee tables, and more throughout the room. One more note—adopters of this style typically don't paint their wood pieces with colors that rob pieces of its comfortable and warm wood feel.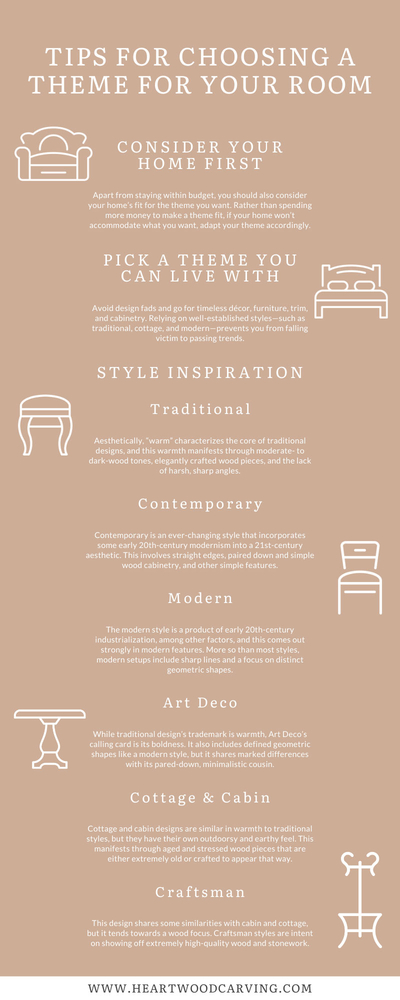 ---