How to Choose the Right Wooden Corbels or Brackets
Posted on

Mon, Aug 24 2020 10:59 am

by Heartwood Carving, Inc.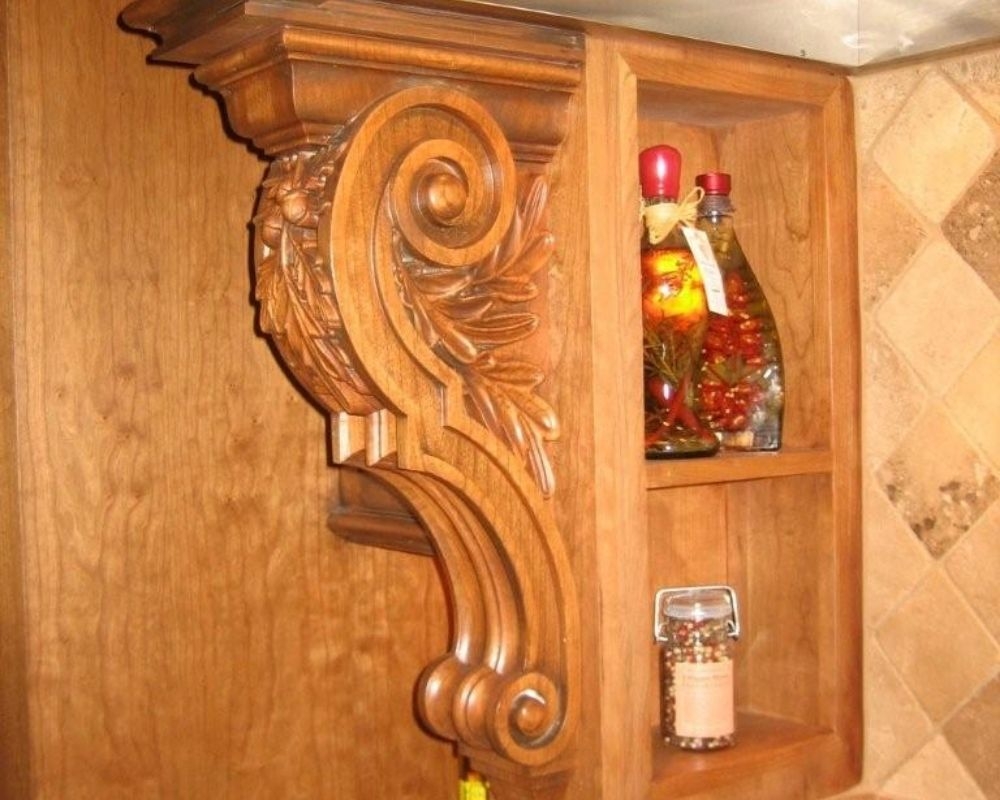 When you install or modify your island, mantel, or stove hood, you need proper support for flat surfaces that extend forward. The piece youíre searching for is a wood bracket or corbel which serves a functional role while contributing an attractive decorative surface as well.

This combination of elegance and practicality somewhat complicates your search process. To adorn your home well, hereís how to choose the right wooden corbels or bracket. Corbels can be very ornamental and are typically installed with a visible forward view in mind, such as fireplace mantels and range hoods. Brackets are carved on the sides only and are great for longer projections like countertops or shelving where the forward view is not as important.
Take Stock of Your Style

You can always install something plain to support your fixtures, but starting with the style you want provides a necessary foundation. Now, you may want to fit your living roomís current look as you shop for corbels for your fireplace mantel, for example. But if youíre itching to make a big change, you have some thinking to do.

If you prefer a muted, modern look, peruse corbels with clean curves and few ornamental details. The slight curvature of a simple corbel is the perfect accent to an interior design filled with straight lines. Admirers for lots of detail have options too. Other decorative wood corbels assume an S-shaped curve and have all manner of classic acanthus leaves or similar flowing, organic details. They fall on many points along a spectrum, from solid and weighty to slight and thin. Heartwood Carving can customize a corbel or bracket to suit your tastes.
Corbel or Bracket Get the Size Just Right

When you land on a style you love, itís then a matter of securing a size that supports your purpose. Of course, sizing depends on where itís going. For bigger stove and range hood applications, you might want a large, 12-inch or deeper set of corbels that solidly support it. As a rule, countertop corbels or brackets should accommodate about three-fourths of counter depth.

Similarly, fireplace mantel corbels should be about two-thirds of the mantel depth and secure to wall studs so they stay in place. If you want to install them somewhere purely for aesthetics, make sure your corbels donít look puny underneath whatever they appear to prop up.
Decide on an Ideal Wood

The final strategy for choosing the right wooden corbels or bracket is to pick a wood with the right grain. For a smoother painting or stain job, beech is an excellent choice and a quality wood. On the flip side, for an authentic wood appearance that matches existing furniture and other features, go with red oak, cherry, or maple. Also, walnut and mahogany are more expensive but worth the look.
---