Effective Boutique Design Tips
Posted on

Thu, Dec 05 2019 12:43 pm

by Heartwood Carving, Inc.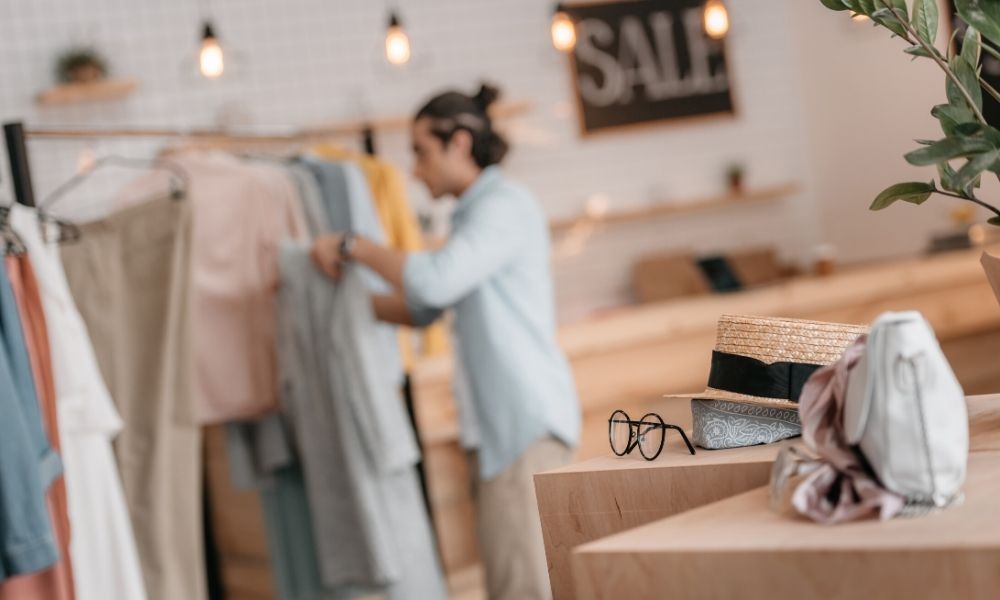 A privately-owned boutique is a passion project, to say the least. Those who choose to open one put in countless hours envisioning the ways in which their dream shall materialize into a long-sought-after reality. When you enter the design process of your store, you need to focus on the actual structure before you can turn your attention to filling it with your wares. While your products will change with the seasons, the store itself will retain its branded feel. It's important that you have a place that reflects your merchandise and values.

Today we strive to offer you advice on how you can carry out the design process and create the store of your dreams. Once you have a building that you love, you can begin to fill it with products that you have an equal affection for. As we go through these tips, we'll also integrate how you can incorporate wood carvings into your design. As professionals in this industry, we hope that we can reflect on the value that these items can add to your business. In this article we are going to explore the details of the following:


The overall theme
A strong blueprint
Lighting
Outsourcing
The Big Picture

The first thing you'll have to do, of course, is decide on the ultimate big picture—the theme of your store. The brand of your store is extremely important in retaining your customers. The reason for this is that in order for them to remember your store, there needs to be something that stands out.

If your store doesn't have a focus, your customers won't know what to focus on when they're inside. They won't know what to look for and may feel more confused than interested. Cohesion is incredibly important when it comes to putting your design together. This helps you avoid making the place either too busy or not busy enough.

When targeting your theme, you have to consider everything you'll want to include before you decide on how you'll pull it all together. Wood corner blocks in conjunction with trim can act as a method for creating balance and creating that cohesion that's so essential for a strong aesthetic. When you're selling objects such as clothes or jewelry, this carefully constructed ambiance will demonstrate to your customers that the business owner has strong attention to detail. The details found in these wood carvings help to reinforce that idea.
Make a Blueprint

A blueprint isn't only essential for actually building a structure, but it also helps to have a visual concept on paper before you implement any physical designs. If you need help, an interior designer can aid you during the process even if you do all the rest yourself.

Once you have your empty building, take precise measurements of everything you can. This information is going to serve you well throughout your entire ownership of the shop. Always be sure to keep these measurements somewhere accessible, even after you complete your initial design. These measurements will help you determine architectural choices, dressing rooms, and furniture placement. You may also decide that you may want to implement changes such as larger windows or a bigger door.

When you have these, draw a few different floor plans and play around with different styles and arrangements. Several design options give you something to refer back on when considering switching up your floorplan or making other adjustments.

While your shop is still an empty palette, evaluate how you can implement custom
architectural wood carvings. You can use these near the doorways to create a strong entrance and create that ever so important first impression. If you choose to have an accent wall, a chair rail or wood paneling could give an attractive, rustic feel. This can add visual interest to some clothing racks or a jewelry table.
Lighting

The lighting will heavily influence the atmosphere in your store. Start with your fixtures, and consider how you want them to look and where you'll place them. To give your boutique a more expensive feel, you could consider adding a chandelier. If you like the look of some fixtures—such as your chandelier—but it doesn't cast enough light, let it serve as a decoration. You can then choose more functional pieces to go in place of it.

The directions that your fixtures cast their light in is going to be important when it comes to drawing your customer's attention where you want it. If you're installing hanging or wall lights, be sure that they're in a place where you'll oftentimes have displays. In that same vein, be sure not to illuminate areas that don't have any retail relevance. The goal of lighting is the make your wares look as good as possible.

The last thing we'll note with lighting is the tone that you choose to use. When it comes to small stores or vintage aesthetics, warm lighting is oftentimes the popular choice. If you use warm lighting, you can expect your store to feel more intimate. If your goal is to widen the space, we recommend that you opt for cool lighting. You should also be sure to select the option that will most accurately display what your products will look like when your customers take them home. Color is very important to consumers and you want to make sure that they see what it is that they're buying.
Outsourcing

There will naturally be some aspects of your boutique that you'll need to outsource to a professional, and your architectural carvings will likely be one of these. When you reach this step, it's important that you work with a professional that takes all your professional needs into account and delivers accordingly. Heartwood Carving offers
original work, so we encourage you to send us your measurements. From here, our team will make a product that gives your boutique the unique aesthetic you've been dreaming of. If you have any specific questions, we encourage you to contact us. We congratulate you on your endeavor and wish you all the success you deserve!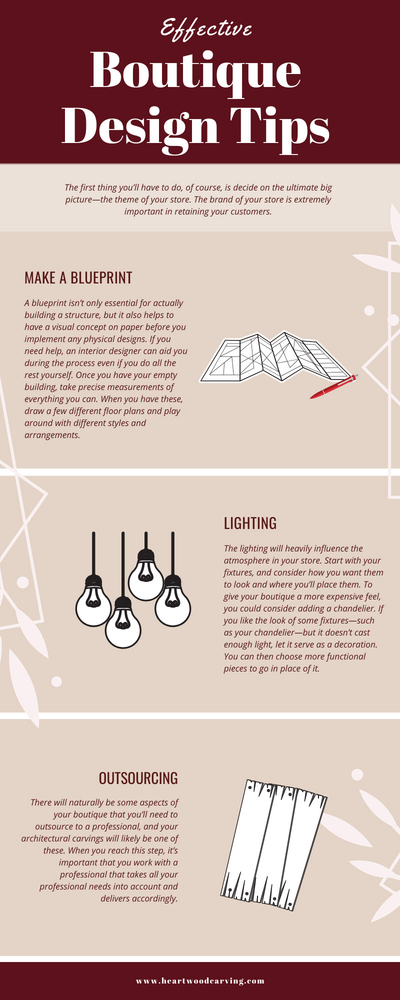 ---