A Decorator's Guide to Using Carved Appliques and Onlays
Posted on

Mon, Mar 09 2020 6:01 am

by Heartwood Carving, Inc.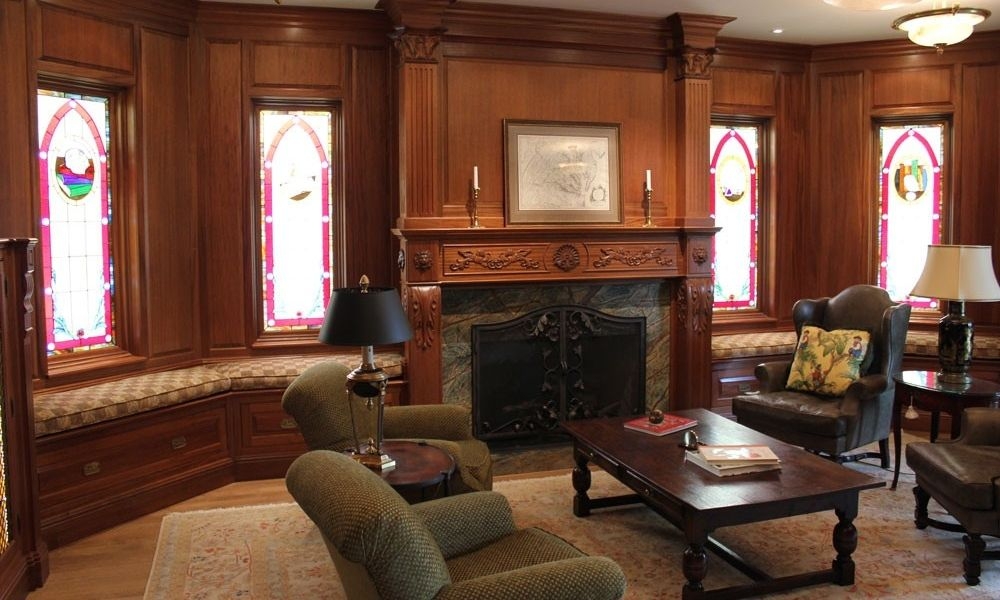 Wood appliques and onlays are flat-backed, carved decorative components "applied" or "onlaid" to flat surfaces to add detail to fireplaces, doors, cabinetry, shelves, walls, and so many other components of a residential or commercial space. Read our decorator's guide to using carved appliques and onlays to wrap your head around their possible uses.
Inject Your Style Sense
Carved appliques and onlays represent a clear opportunity to emphasize your preferred style. Accents in many styles from Art Deco, to Floral, to Gothic, to Contemporary are available, along with transitional elements. If you have a strong period home, what better way to emphasize your Federal style than a proper Federal ornament motif on the central fireplace mantel, the range hood, or your cabinetry? If you are decorating a beach house, bring some whimsy to the living room or bedrooms with shells and starfish onlays on the bedframes or cabinetry. No matter what style you connect with, you can find wood onlays and appliques that accentuate that style, and at Heartwood Carving we make your searching easier by type or by themed collection.
Types of Appliques and Onlays
In addition to the themed aspect of appliques and onlays, there are design choices in terms of shape and size, and in this guide to using carved appliques and onlays there are several important types to keep in mind.
Scrolled
Scrolled appliques and onlays are very popular for filling larger flat areas meant to be a focal point. Their lengthy "scrollwork" is typically quite ornate and form the center focus of the piece to which they're adhered. Common locations are fireplace centers, range hoods, and cabinetry headers.
Center
Center appliques and onlays are also meant to be the focal point but are best suited to square or round locations common to cabinet doors or insets. These are balanced wood pieces that can be large and exceedingly detailed or small supporting accents.
Right or Left
Right and left onlays typically come in pairs. These pairs create balance when juxtaposed or can complement a center onlay as bookends. Alternately, they can be used in staircases to ornament the banister beneath the tread or range hood locations, particularly in arched settings.
Corner
Corner appliques also look best when paired with at least one other corner applique. They are meant to be placed in the corners of square or rectangular panel locations. Cabinet doors are a common location for corner onlays, but they are also used in fireplace and range hood locations.
Alternate Uses for Appliques and Onlays
Certain circumstances warrant homeowners and decorators to consider appliques and onlays.
Covering up Imperfections
Large, full appliques mask a cabinet's imperfections by covering up scratches, dents, or other blemishes. If you're ashamed of a hard-to-fix flaw in your decorating scheme, try adding an applique so no one is the wiser.
Embellishing a DIY project.
Repurposing a piece of furniture or a flea market treasure using an onlay will add a touch of personality.
"Topping" off a Furniture Update
If you are finishing off a repainting project, what is a better way to finish off a cabinet or shelf update than adding a scrolling applique along the side or at the top? If you're making one change, consider trying to be creative about other stylish changes you can make.
---