Key Considerations for Staircase Design
Posted on

Fri, Feb 07 2020 11:48 am

by Heartwood Carving, Inc.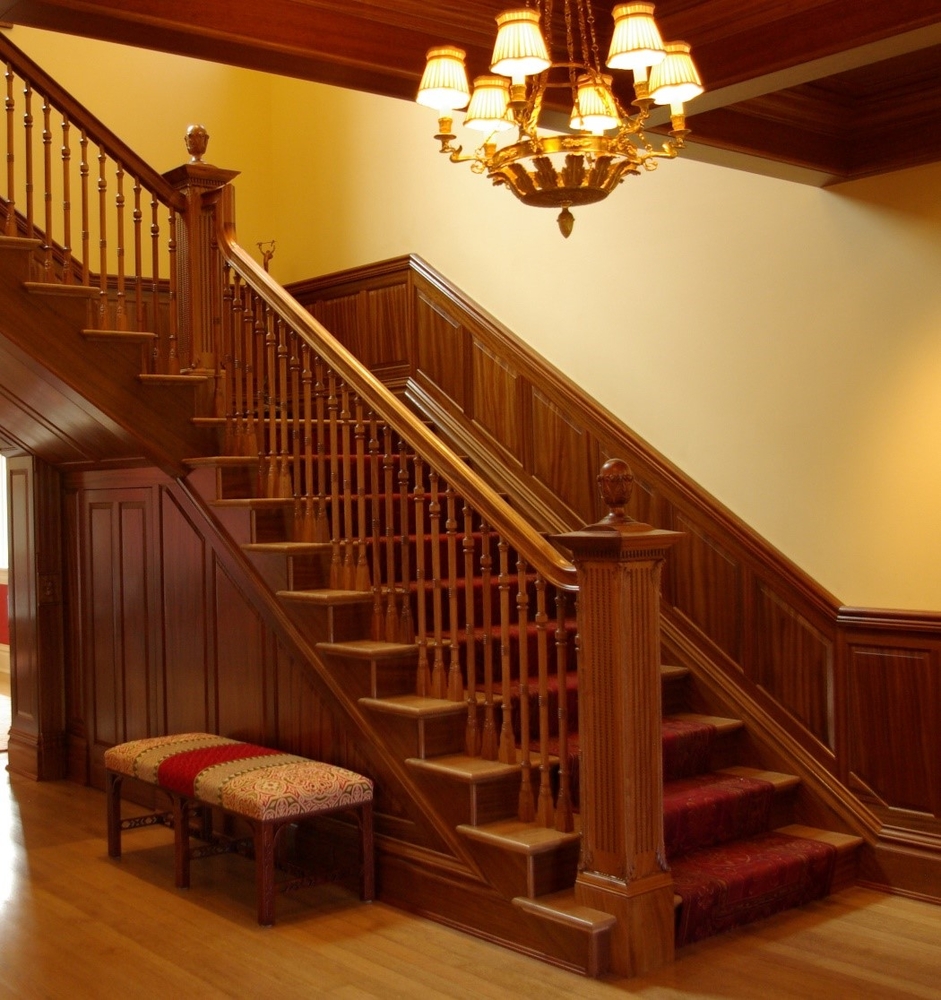 Staircases are one of the most prominent and functional features of a
house's interior. For this reason, designing a staircase is a
unique challenge, as you want to allow each facet to be superb
without compromise. Here are several key considerations for
staircase design to guide you through the process.
Regulations and Available Space

Countries have
their own interior design regulations that you'll need to account
for before you mock up any designs. These regulations are typically
dictated by average human proportions. U.S. regulations are as
follows:


Tread width
(the horizontal section of a stair): at least 22 inches

Tread depth:
at least 9.5 inches

Riser height
(vertical section): 9.5 inches

Tread nosing
(where riser and tread meet): straight leading edges

Stair
landings: at least 20 inches


Another
constraint to investigate is how much space you have to work with.
Ceiling height determines how many (equally-sized) risers you must
use, and tread size dictates how far the stairs can extend
horizontally. You can optimize these measurements to use less floor
space while maintaining the staircase's functionality.
Who Will Use It?

You can tailor
the stair design to meet the needs of the people who will use the
stairs. Steep stairs with large risers aren't as safe or accessible
for seniors and small children. To accommodate either group, you can
limit riser height, increase tread depth, and install railings on
both sides. You could also use a nonslip material for your stairs,
incorporating carpet or applying a nonslip coating to prevent falls.
Design Style

Once you know
your constraints, you can begin to get creative. Will your staircase
be a focal point, or will it complement its surroundings? Are you
fitting it to a certain period or style, or are you looking to set
the tone for your entryway? Regardless of which perspective you take,
you can always incorporate
custom
wood carvings
into your design. A carved newel
post and
finial,
for example, create a focal point for an entry. Another simple DIY
project might be to install decorative staircase brackets or
appliques along the stringer to add your personal touch. Open risers
make the staircase more transparent if you're striving for a
minimalistic style.
Materials

A related consideration for staircase design is the material.
Wood is a flexible, cost-effective, and extremely common option. If
you're going for the minimal look, metal stairs are simple and
functional. Stone promises longevity and excellent soundproofing
because it lacks hollow areas. There are even more materials to pick
from and plenty of ways for you to personalize your staircase while
paying attention to its function.
---