4 Benefits of Having Wood Furniture in Your Home
Posted on

Fri, Jul 26 2019 8:48 am

by Heartwood Carving, Inc.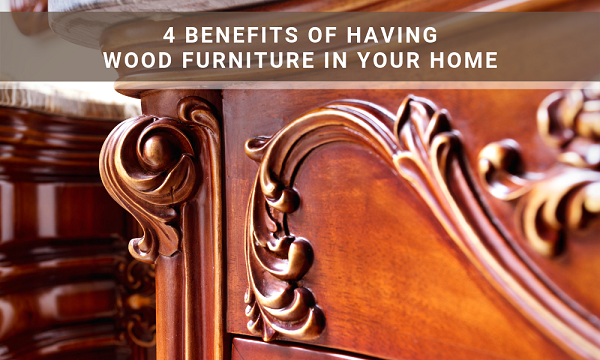 When outfitting a home with elegance in mind, you must first methodically select the base pieces. From here, you can coordinate the rest of the aesthetic accordingly. These base pieces are the focal point of a room—the foundation that pulls a theme together. As such, they should be sustainable and easy to maintain. When you're striving to achieve this goal, wood furniture becomes the obvious answer. There are various reasons why you would benefit from having wood furniture in your home, and we list a few of them below.
1. They're Long Lasting

When properly cared for, wood furniture can last generations. If areas begin to scratch or wear, you can generally sand and polish the piece until it looks as good as new. For extremely durable furniture, Heartwood possesses natural chemicals that prevent the growth of rot and fungi.
2. Economical Friendliness

According to Daily Press, "Wood, by any measure, is the most environmentally-friendly raw material at our disposal." Its impressive lifespan prevents waste since it lasts an incredibly long time. Cheaper materials typically require replacement within a year or two. Additionally, wood is recyclable, due to being 100% bio-degradable.
3. It's Versatile

The opportunities wood presents are endless, as homeowners can fashion it to fit the look of any room. You can stain, paint, and refinish accordingly. You can also make simple pieces more decadent by updating them with architectural wood carvings. Further, you can enhance wood fireplaces or bars with beautifully designed appliques.
4. Easy to Clean

Wood furniture is incredibly easy to maintain. Dust your furniture regularly and wipe it down with wood cleaner and a microfiber towel. Be cautious, however, about using water. Water that's allowed to sit on wood can not only disfigure its appearance but can also cause rot and mold.
---