TG3D "RUSTICA" - 1 x 6 x 94 Decorative Stackable Paneling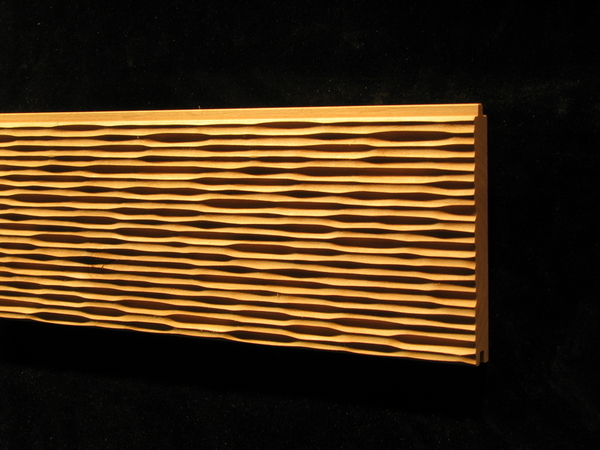 TG3D "RUSTICA" - 1 x 6 x 94 Decorative Stackable Paneling
SKU: TG3D-RUSTICA 1 x 6
Choose Options for Pricing or Request Custom Quote
Carved/Textured 1 x 6 Tongue and Groove (T&G) decorative stackable paneling featuring carved textures by Heartwood. Available as 8' lengths for 3.5 sq ft of coverage. Each board has a useable face of 5.1" width (tongue feature adds 0.25"). Shown in Knotty Alder. A non tongue and groove, square edge version is available here. MINIMUM ORDER IS 4PC. SAMPLES AVAILABLE BY REQUEST. Your order will require a shipping quote to complete.
Custom requests for different species, lengths or volumes are welcome by inquiry. Samples are available, simply use the inquiry button and include your address and preference.

Copyright 2012.
Specifications


Decorative stackable wood paneling and trim featuring carved textures and patterns. These Tongue and Groove wood paneling are carved in 8' lengths per the profile shown in the wood choice selected.

Pattern is continuous and repeats at intervals and/or at the 8' length.

Lead times are generally 5-15 days till shipment.

Shipment is from Oregon.

Special requests for art or other changes are welcome by inquiry and may incur additional design fees.

Discounts available for larger or wholesale quantities, please inquire.

Covered by US PATENT 9,175,482 B2. All rights reserved.
Recommendations
Decorative Ceiling paneling
Decorative Wainscoat paneling,
Decorative Focal Wall or Backsplash
Stackable Decorative Wall paneling
Reviews
decorative stackable wood paneling Tongue and Groove TG
Have a custom project in mind?
---