Capitals (Flat Back)
Capitals in either full round or flat backed form are traditional methods for completing the top of a column or pilaster.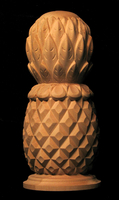 Item #: FN-PINC
Wood Finial of the classic carved pineapple in full round with a base. Available in a variety of wood choices...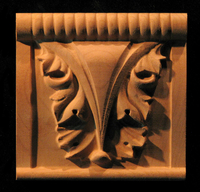 Item #: CAP-AC3
This capital uses a central Acanthus Leaf carving with Stacked Coins in upper section and resembles many corbels in period...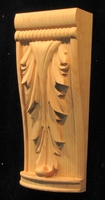 Item #: CAP-ACA
Capital of one of the most classic and popular elements, the carved acanthus leaf. Suitable as a stand alone item...

Item #: CAP-ACRD-1
Carved Acanthus capital featuring a popular 3 leaf form in a rounded display, flat backed and suitable for capping a...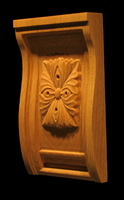 Item #: CAP-4LV
Capital using the four leaves motif on a profiled face with taper from top to bottom suitable for use...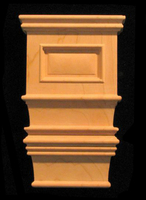 Item #: CAP-GEO
This capital/onlay/applique inspired from Georgian settings is styled for use as a stand alone capital or paired with one our...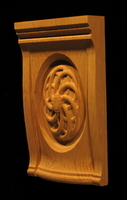 Item #: CAP-RNG
A pilaster capital incorporating interwoven rings. Standard sizes shown and can be sized to suit your requirements by REQUEST.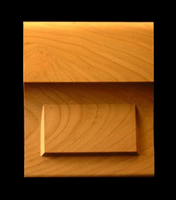 Item #: CAP-DECO
This flat back capital has a bullnose top with reverse curve to block below carved in a style to complement...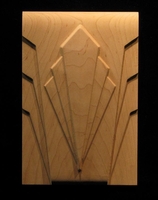 Item #: CAP-EDECO
A capital featuring a wholly art deco inspiration of faceted surfaces arranged to top a pilaster (flat backed column). ...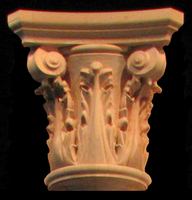 Item #: CAP-COR
This capital represents the highest form of the classical composition, the Corinthian Capital with its acanthus leaf accents can be...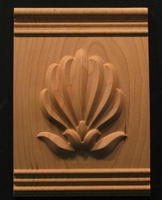 Item #: CAP-SHFL
Carved flat back capital based on the classic palmette. Install above a pilaster for a classic touch. The capital...