Rave Reviews
Comments from our valued customers
Click Here to Send Us Your Feedback!

3" Roaring Lions
You carved 3" roaring lion heads for our victorian quarter sawn oak fireplace. These are absolutely FABULOUS and bring the piece to life. Thanks! Julie Cox
--Julie Cox

scrolled shell onlay
High customer service Kudos to Joe. I ordered the onlay from my home in MS and he had it produced and shipped in time for me to install it on a mirror in my other home in Oregon before I had to return to MS. thanks muchly. accuracy and on time preformance.
--Nick Richards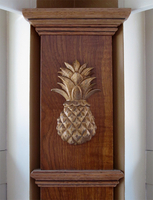 Custom Onlays
Thank you for the high quality custom onlays. I was very pleased with your service and products. Everyone who sees them absolutely loves them. We forward more pix when available.
--Mike Rang - Norwalk, OH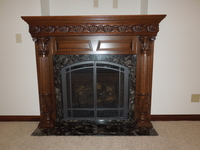 Fireplace Surround
The parts came together perfectly for our fireplace. Our cabinet maker completed the half round columns and freize. I have more pictures if you want them. We will be back when we finsh our basement.
--Brion St.Amour

Carved Columns
The columns arrived yesterday. I canít say enough about how nice they are. I want to say thanks to you and to all at Heartwood Carving for all that you did to help me get what I wanted. They are going to look fantastic when the project is complete and Iíll surely send you pictures just so you can see the final product. Should be sometime next month.

Thanks again for a job well done!!
--Steve Coppens - Fraser, Mi

Gorgeous Volutes
The volutes arrived today - they are GORGEOUS! Your company does such great work.

Thanks for everything. I'll send you pictures when the project is complete.
--Gayla Lewis