Craftsmanship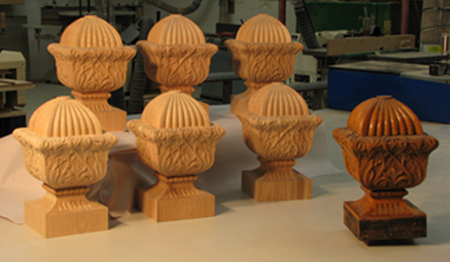 Heartwood has reproduced everything from a single applique or corner block to multiples of all of the carved components in a grand staircase. We produce single sided, multi faced and full-round carvings. In the case of these staircase finials the original, seen at the far right, was scanned from multiple angles then reconstructed into a 3D model. An MDF sample was sent for client approval before the entire group was produced.
The Architect on the project had this to say:
"Working with Heartwood has been universally fantastic not only is their product consistently excellent, but in a truly collaborative spirit. Heartwood has been warmly receptive to our input and is always willing to make suggestions for the betterment of the project. They do not shy away from new ideas and, as real artists, embrace challenges that will potentially advance their craft. Furthermore, they are equipped with sufficient technical and mechanical means to undertake large projects cost effectively, but never lose that critical personal touch.
With the assistance of Heartwood Carving, an emerging notion of a new architectural restoration process is moving from vision to reality. As a result, a once battered but deserving work of architecture will be returned to its rightful glory, when even five years ago this would have been almost inconceivable. I am convinced that the future of historic preservation and restoration has arrived."
Grahm Balkany, Architect
i.DesignGroup, Chicago, IL
Please see our
Gallery
for more restoration examples.