Onlays, Appliques, Scrollwork & Medallions
Heartwood Carving carved decorative wood onlays and appliques, are decorative ornaments useful for bringing visual interest to flat areas. Carved onlays and appliques are often used to decorate fireplace mantels, stove or range hoods and cabinetry headers. Many sizes including wide scrolls are standardized but we can custom carve any of the products to suit your preference.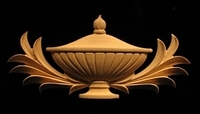 Onlays, or appliques, are perfect for adding adornment by applying to an existing surface and can be glued or nailed in place. All art can be manipulated to suit your individual requirements and run to order.
Scrolled and running carved wood onlays and appliques are perfect carved accents for flat surfaces requiring a wide layout such as mantels, range hoods and cabinet headers.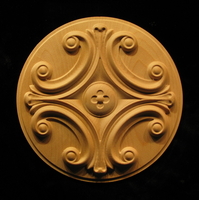 Medallions are larger circular onlays used as a centerpiece in a coffered ceiling or cabinetry doors where a larger piece is required.