Columns
Whether incorporated into mantle surrounds or trimming doorways and window casings, carved wood columns and pilasters (flat edged columns) are the most classic component in decorative architecture. Many shown with optional Capitals. All art shown is digital and can therefor be sized and carved to order to suit your requirements.

Pilasters are flat backed columns useful for ornamenting trim or other flat surfaces. Heartwood offers a range of styles that can be modified to suit your requirements. Many shown with optional capitals.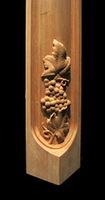 Carved corner posts for application in kitchen islands, bars and other built in furnishings where an ornamented corner is required.

Columns are one of truly classic architectural components and Heartwood is capable of providing our collection of round styles in full, 3/4 for corner applications or half forms in a range of sizes that can be tailored to suit your particular requirements.